Create a productive and professional looking office. The colours and images you use in your space will affect the atmosphere and the vibe of your office.  Light colours will make your space look bigger, darker colours will be more dramatic and textures will add interest.  With so many options to choose from here are a few ideas.
This real estate agency used this beautiful Baresque vinyl textured grey and silver wallpaper that has a slight sheen.  The texture on this light colour is subtle but adds a beautiful luxurious look to the room.

The Lord Mayor's Office choose to go for a neutral grassweave, this unique style is characterized by its distinct design that emphasises each panel.  This wall covering gives the space a light airy feeling while still having a professional look that is required by a government department.
A unique choice by this dentists office, they placed this beautiful custom made mural by Baresque on the roof to give their clients something interesting to look at while lying back in the chair.  The relaxing waves give a unique look to this room.

Photographic mural wall covering are also a popular choice, they give a contemporary look. This recruitment office chose to go for a classic group shot.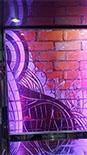 Not ready to make such a big change… why not start with a small step, perhaps the lift. This office chose a graffitti style mural by Milton & King that changes a commonly boring space into an edgy area.
Call Noel on 0412 197 965 today to receive your free quote and start the decorating process.